Pastor Evensen takes the preaching of the Word very seriously and can often be found in his study.
We share the Word freely, for freely ye have received so freely give!
Resisting Spiritual Wickedness in High Places (Ephesians 6:10-14)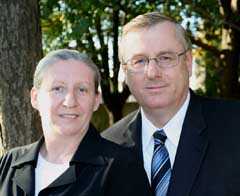 G. L. Evensen, July 28, 2019
Part of the
Encouragement
series, preached at a
Sunday Worship
service
New York had just experienced a bombing on the streets in 17 September 2017 and a shootout with terrorists on 19 September 2016 and Al-Quaida was threatening more
How true those words were, not only our prayers were heard but others also, as the only attack on record was on 28 Nov 2016 where students at Ohio State were attacked by a vehicle and the terrorist was shot dead by police.
Im sure there were things thwarted that never made the public record and that we may never know about
I also said spiritual wickedness in high places is rampant.
And it has grown more rampant
In Proverbs 14:34 the word says:
34 Righteousness exalteth a nation: but sin is a reproach to any people.
Proverbs 14:34 KJV

Download
About G. L. Evensen:
Pastor Evensen is the founding Pastor of the North Jersey United Pentecostal Church in Secaucus NJ.
Ephesians 6:10-14
10Finally, my brethren, be strong in the Lord, and in the power of his might. 11Put on the whole armour of God, that ye may be able to stand against the wiles of the devil. 12For we wrestle not against flesh and blood, but against principalities, against powers, against the rulers of the darkness of this world, against spiritual wickedness in high places. 13Wherefore take unto you the whole armour of God, that ye may be able to withstand in the evil day, and having done all, to stand. 14Stand therefore, having your loins girt about with truth, and having on the breastplate of righteousness; (KJV)