Pastor Evensen takes the preaching of the Word very seriously and can often be found in his study.
We share the Word freely, for freely ye have received so freely give!
God Still Chooses The Church (Ephesians 5:25-27)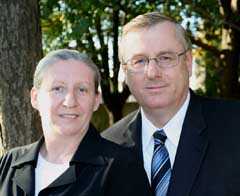 G. L. Evensen, July 7, 2019
Part of the
Encouragement
series, preached at a
Sunday Worship
service
In an article for the Huffington Post entitled, "Why I Choose to Live Out My Faith Outside of Organized Religion", writer Mick Mooney explains how he believes in God but rejects religion, that he believes in Jesus but rejects Christianity.
There is a lot of talk about personal relationship, independent spirituality, and everyone finding their own paths to God.
The truth of the matter is that they are just like people who reject tithing, they give very little time to the things of God, if any.
God chose the Church

Download
About G. L. Evensen:
Pastor Evensen is the founding Pastor of the North Jersey United Pentecostal Church in Secaucus NJ.
Ephesians 5:25-27
25Husbands, love your wives, even as Christ also loved the church, and gave himself for it; 26That he might sanctify and cleanse it with the washing of water by the word, 27That he might present it to himself a glorious church, not having spot, or wrinkle, or any such thing; but that it should be holy and without blemish. (KJV)