Pastor Evensen takes the preaching of the Word very seriously and can often be found in his study.
We share the Word freely, for freely ye have received so freely give!
Once Is Not Enough (Titus 3:3-9)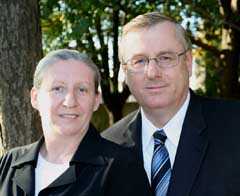 G. L. Evensen, June 23, 2019
Part of the
Salvation
series, preached at a
Sunday Worship
service
One time is not enough, we need to return time and time again to the well of life for a renewing of the Holy Ghost

Download
About G. L. Evensen:
Pastor Evensen is the founding Pastor of the North Jersey United Pentecostal Church in Secaucus NJ.
Titus 3:3-9
3For we ourselves also were sometimes foolish, disobedient, deceived, serving divers lusts and pleasures, living in malice and envy, hateful, and hating one another. 4But after that the kindness and love of God our Saviour toward man appeared, 5Not by works of righteousness which we have done, but according to his mercy he saved us, by the washing of regeneration, and renewing of the Holy Ghost; 6Which he shed on us abundantly through Jesus Christ our Saviour; 7That being justified by his grace, we should be made heirs according to the hope of eternal life. 8This is a faithful saying, and these things I will that thou affirm constantly, that they which have believed in God might be careful to maintain good works. These things are good and profitable unto men. 9But avoid foolish questions, and genealogies, and contentions, and strivings about the law; for they are unprofitable and vain. (KJV)