Pastor Evensen takes the preaching of the Word very seriously and can often be found in his study.
We share the Word freely, for freely ye have received so freely give!
3 Giants the Church is facing today (mp3) (1 Samuel 4:17-19)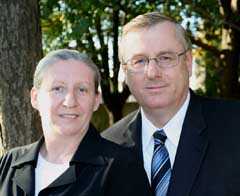 G. L. Evensen, July 29, 2018
Part of the
Encouragement
series, preached at a
Sunday Worship
service
As Goliath defied the armies of Israel in 2018 we have 3 giants that face the church of the living God
They are Giants, but are not undefeatable, but defeating them will take consecration and effort

Download
About G. L. Evensen:
Pastor Evensen is the founding Pastor of the North Jersey United Pentecostal Church in Secaucus NJ.
1 Samuel 4:17-19
17And the messenger answered and said, Israel is fled before the Philistines, and there hath been also a great slaughter among the people, and thy two sons also, Hophni and Phinehas, are dead, and the ark of God is taken. 18And it came to pass, when he made mention of the ark of God, that he fell from off the seat backward by the side of the gate, and his neck brake, and he died: for he was an old man, and heavy. And he had judged Israel forty years. 19And his daughter in law, Phinehas' wife, was with child, near to be delivered: and when she heard the tidings that the ark of God was taken, and that her father in law and her husband were dead, she bowed herself and travailed; for her pains came upon her. (KJV)