Pastor Evensen takes the preaching of the Word very seriously and can often be found in his study.
We share the Word freely, for freely ye have received so freely give!
8 God Given Strategies for Difficult Times (Exodus 14:1-5)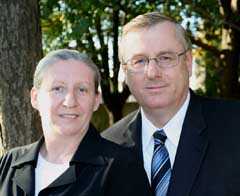 G. L. Evensen, June 3, 2018
Part of the
Encouragement
series, preached at a
Sunday Worship
service
When you are in a difficult situation, remember that the Lord placed or allowed you to be there.
God told them to camp at the mouth of the Red Sea, a place with one entry and no seeming way of escape

About G. L. Evensen:
Pastor Evensen is the founding Pastor of the North Jersey United Pentecostal Church in Secaucus NJ.
Exodus 14:1-5
1And the LORD spake unto Moses, saying, 2Speak unto the children of Israel, that they turn and encamp before Pi-hahiroth, between Migdol and the sea, over against Baal-zephon: before it shall ye encamp by the sea. 3For Pharaoh will say of the children of Israel, They are entangled in the land, the wilderness hath shut them in. 4And I will harden Pharaoh's heart, that he shall follow after them; and I will be honoured upon Pharaoh, and upon all his host; that the Egyptians may know that I am the LORD. And they did so. 5And it was told the king of Egypt that the people fled: and the heart of Pharaoh and of his servants was turned against the people, and they said, Why have we done this, that we have let Israel go from serving us? (KJV)