Pastor Evensen takes the preaching of the Word very seriously and can often be found in his study.
We share the Word freely, for freely ye have received so freely give!
Answering Doubt (Matthew 28:16-20)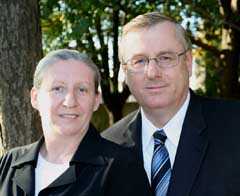 G. L. Evensen, June 24, 2018
Part of the
Encouragement
series, preached at a
Sunday Worship
service
Jesus made this statement to what would become the 11 apostles, later the 11 would choose a replacement for Judas Iscariot, the one betrayed Christ.
I find it interesting that the doubts of men close to the Lord did not stop the great move of God that would soon sweep the world.
The scripture said: 17 When they saw him, they worshiped him; but some doubted.
No doubt that Thomas was one of the doubters, but Thomas was not alone, because it didn't say, one doubted, it said some doubted!
But Jesus talked to the doubters anyway, he gave instruction to the doubters anyway, because he knew that doubts can be answered.

About G. L. Evensen:
Pastor Evensen is the founding Pastor of the North Jersey United Pentecostal Church in Secaucus NJ.
Matthew 28:16-20
16Then the eleven disciples went away into Galilee, into a mountain where Jesus had appointed them. 17And when they saw him, they worshipped him: but some doubted. 18And Jesus came and spake unto them, saying, All power is given unto me in heaven and in earth. 19Go ye therefore, and teach all nations, baptizing them in the name of the Father, and of the Son, and of the Holy Ghost: 20Teaching them to observe all things whatsoever I have commanded you: and, lo, I am with you alway, even unto the end of the world. Amen. (KJV)