Pastor Evensen takes the preaching of the Word very seriously and can often be found in his study.
We share the Word freely, for freely ye have received so freely give!
Grace: The Personal Trainer VIDEO (Titus 2:11-14)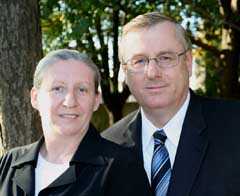 G. L. Evensen, July 22, 2018
Part of the
Grace
series, preached at a
Sunday Worship
service
Pastor Evensen teaches on the purpose of Grace

About G. L. Evensen:
Pastor Evensen is the founding Pastor of the North Jersey United Pentecostal Church in Secaucus NJ.
Titus 2:11-14
11For the grace of God that bringeth salvation hath appeared to all men, 12Teaching us that, denying ungodliness and worldly lusts, we should live soberly, righteously, and godly, in this present world; 13Looking for that blessed hope, and the glorious appearing of the great God and our Saviour Jesus Christ; 14Who gave himself for us, that he might redeem us from all iniquity, and purify unto himself a peculiar people, zealous of good works. (KJV)