Pastor Evensen takes the preaching of the Word very seriously and can often be found in his study.
We share the Word freely, for freely ye have received so freely give!
Understanding Speaking in Tongues (Acts 2:1-4)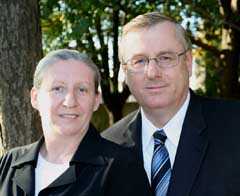 G. L. Evensen, June 6, 2013
Part of the
Salvation
series, preached at a
Midweek Meeting
service
Many people do not understand the biblical experience known as speaking in tongues. This study addresses this issue.

Download
About G. L. Evensen:
Pastor Evensen is the founding Pastor of the North Jersey United Pentecostal Church in Secaucus NJ.
Acts 2:1-4
1And when the day of Pentecost was fully come, they were all with one accord in one place. 2And suddenly there came a sound from heaven as of a rushing mighty wind, and it filled all the house where they were sitting. 3And there appeared unto them cloven tongues like as of fire, and it sat upon each of them. 4And they were all filled with the Holy Ghost, and began to speak with other tongues, as the Spirit gave them utterance. (KJV)