Pastor Evensen takes the preaching of the Word very seriously and can often be found in his study.
We share the Word freely, for freely ye have received so freely give!
God's Love for the Unfaithful
()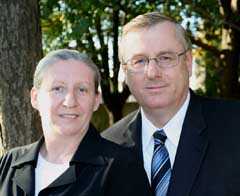 G. L. Evensen, November 7, 2010
Part of the
Encouragement
series, preached at a
Sunday Worship
service
Gods love for the unfaithful is a powerful message taken from the book of Hosea.
1) God suffers when His people are unfaithful to Him
2) God cannot condone sin - his love does not = his approval;
3) God will never cease to love His own; and, consequently
4) He seeks to win back those who have forsaken Him

Download
About G. L. Evensen:
Pastor Evensen is the founding Pastor of the North Jersey United Pentecostal Church in Secaucus NJ.