Look on the Fields (John 4:33-38)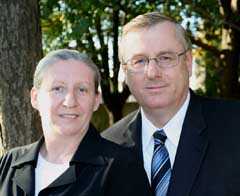 G. L. Evensen, March 4, 2012
Part of the
Encouragement
series, preached at a
Sunday Worship
service
The difference is that when I was 22 years old I walked away from a life of self gratification and gave up all that stuff and you can see it in my face. I may look old, but not older than dirt.
Sin will not only destroy you spiritually, it will destroy your body also.
And you may ask what does this have to do with white fields?
The fields don't look very white to me?
I want you to understand something
The dissatisfaction that is inherent in sin will help a harvest to whiten in the fields of God
Why did you come to God?
I came to God because I was dissatisfied with the sinful life I led and so did you.

Download
About G. L. Evensen:
Pastor Evensen is the founding Pastor of the North Jersey United Pentecostal Church in Secaucus NJ.