Pastor Evensen takes the preaching of the Word very seriously and can often be found in his study.
The website has recently been updated and more messages can be found here
The Message to the 7 Churches Part 1 (Revelation 1:17-2:1)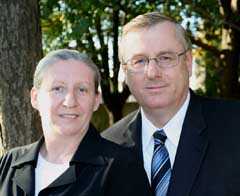 G. L. Evensen, January 26, 2014
Part of the
Th Message to the 7 Churches
series, preached at a
Sunday Worship
service
The 7 Churches of revelations coexisted at the same time. Five of the 7 churches had issues that God condemned them for. Today we see those same sever spirits co existing today.
Audio clip: Adobe Flash Player (version 9 or above) is required to play this audio clip. Download the latest version here. You also need to have JavaScript enabled in your browser.
Download
About G. L. Evensen:
Pastor Evensen is the founding Pastor of the North Jersey United Pentecostal Church in Secaucus NJ.
ERROR: The IP key is no longer supported. Please use your access key, the testing key 'TEST'