Pastor Evensen takes the preaching of the Word very seriously and can often be found in his study.
The website has recently been updated and more messages can be found here
Understanding Legalism (Matthew 22:23-38)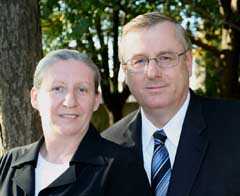 G. L. Evensen, July 10, 2014
Part of the
Discipleship
series, preached at a
Midweek Meeting
service
Invariably when you teach on holiness, the cry legalist is heard against the teacher,
Let's look first and understand what legalism is according to the Bible.
Jesus opposed the Jewish legalism of His day, particularly that of the Pharisees. These Jewish legalists believed that salvation rested in strict conformity to the Law of Moses and the oral traditions they had built around it.
Jesus rebuked this self-righteous attitude, the hypocrisy that accompanied it, and the man-made traditions that actually subverted the Word of God.
But what is legalism biblically?

Audio clip: Adobe Flash Player (version 9 or above) is required to play this audio clip. Download the latest version here. You also need to have JavaScript enabled in your browser.
Download
About G. L. Evensen:
Pastor Evensen is the founding Pastor of the North Jersey United Pentecostal Church in Secaucus NJ.
Matthew 22:23-38
23 The same day Sadducees came to him, who say that there is no resurrection, and they asked him a question, 24 saying, "Teacher, Moses said, 'If a man dies having no children, his brother must marry the widow and raise up children for his brother.' 25 Now there were seven brothers among us. The first married and died, and having no children left his wife to his brother. 26 So too the second and third, down to the seventh. 27 After them all, the woman died. 28 In the resurrection, therefore, of the seven, whose wife will she be? For they all had her."
29 But Jesus answered them, "You are wrong, because you know neither the Scriptures nor the power of God. 30 For in the resurrection they neither marry nor are given in marriage, but are like angels in heaven. 31 And as for the resurrection of the dead, have you not read what was said to you by God: 32 'I am the God of Abraham, and the God of Isaac, and the God of Jacob'? He is not God of the dead, but of the living." 33 And when the crowd heard it, they were astonished at his teaching.
34 But when the Pharisees heard that he had silenced the Sadducees, they gathered together. 35 And one of them, a lawyer, asked him a question to test him. 36 "Teacher, which is the great commandment in the Law?" 37 And he said to him, "You shall love the Lord your God with all your heart and with all your soul and with all your mind. 38 This is the great and first commandment. (